Ai-No-Te OvalⅡ specifically adopted the oval-shaped coping in 40×32mm based on human engineering to ensure its efficient stability. Highly artistic design with combination of aluminium and resin has been attracting a number of professional designers. It changed the cold feel of conventional stainless steel handrails.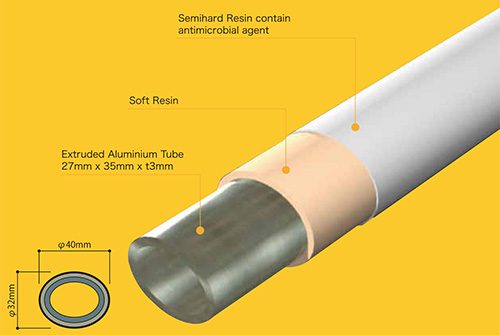 Why Oval?
Oval-shaped handrail in an appropriate size is an excellent model to keep balance of the body because your palm can maintain sufficient resistance against power to twist the handrail. It is widely applicable from products in public buildings that are often used with sliding to others in residential houses or facilities used more for holding firmly.
Resistance test against twisting
It was measured when the handrail was held firmly while standing to find out how strongly it could be held by hand without sliding when it was turned around its axle. The result showed that the resistance against twisting of the oval-shaped handrail (in 40×32mm) was 10-20% higher than the circle shape (34mm diameter).
Why 40×32mm?
At first, we selected the handrail in 34×30mm. In the previous research, it was in the middle for popularity ranking from the oval-shaped models in 27 different sizes and the ciecle-shaped models in 6 different sizes. Then we used this as the standard sizes & shapes one by one in the further research. The result showed that oval-shaped models were more welcomed for holding comfortably, among those, the one in 40×32mm won the best popularity.
*Research to 32 adults.
Lineup
For Wash Basins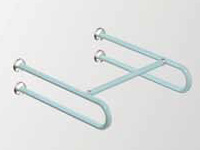 For Wash Basins together with Toilet Seats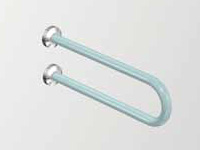 For Toilet Stool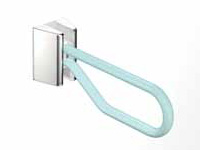 For Urinal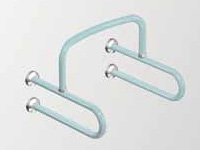 For Multiple Purposes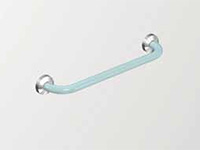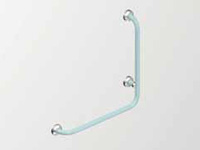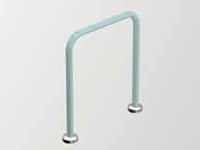 Colours

No.82
Metallic Blue

No.V03
White

No.V04
Yellow

No.V02
Red*

No.V01
Blue*
* These colours are available upon acceptance of orders only. Please discuss with us for each delivery period.
Specifications
Top Railing: (Surface Material) Semihard Resin contain (Antimicrobial agent included) + Soft Resin dual layer forming
Core Material: Aluminium tube 27 × 35 × t3 mm
Blacket Cover: Chromium plating ABS plastic
Construction Drawing against Walls and on Floors