The motion and angle of hands holding a handrail have been pursued thoroughly to form a wave profile with repeated vertical sections that are used like a handle and horizontal sections that are used like a walking cane.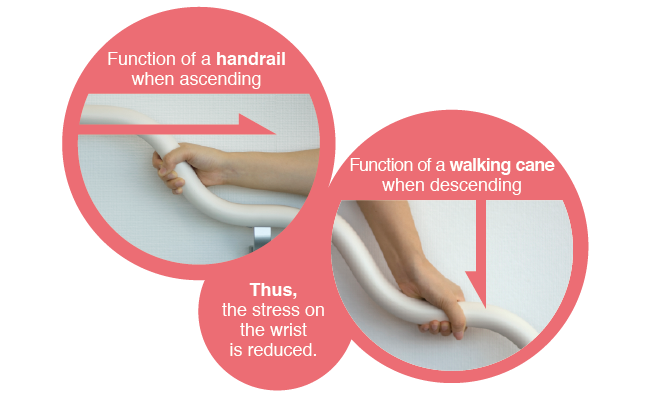 The wavy NeoQunetto handrail supports people in any situation, including at parks, schools, hospitals, other public facilities and in homes.
Colour
Plain Colour

No.02
Grey

No.03
Dark Grey

No.04
Soft Black

No.11
Ivory White

No.12
Light Beige

No.13
Beige

No.22
Light Brown

No.23
Chocolate

No.03
Dark Grey

No.04
Soft Black *

No.22
Light Brown

No.23
Chocolate
* These colours are available upon acceptance of orders only. Please discuss with us for each delivery period.
Wooden Colour

No.71
Natural

No.73
Birch

No.74
Teak

No.90
Oak

No.91
Sepia Brown
Bracket

AFN-55
AFN-65
AFN-75

AFS-55
AFS-65
AFS-75
End Cap

VA End

FA End
Specifications
Top Rail / Semihard Resin (with antibacterial agent) + Soft Resin Dual forming
* Wood Colour with ultrafine wood powder compound
Top Rail Bearer / Extruded Aluminium A6063S-T5
Function and effect
Qunetto is a wavy handrail that was continuously the two functions of the "walking cane" and "handle". Two functions to ease up and down the stairs, and support and securely firm the body.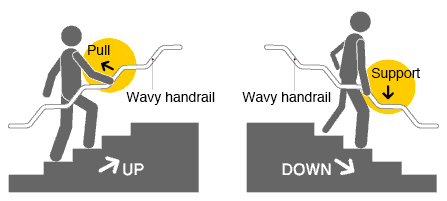 It has been found that using the palm on a horizontal section of the wavy handrail to support the body weight during ascending reduces the load on the knees to less than one-third compared with straight handrails.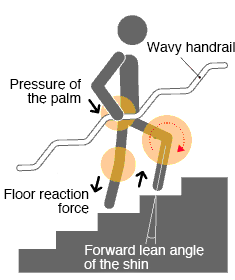 Installation case example
The copyright of the image data belongs to NAKA CORPORATION.
Commercial building
Saitama, Japan
Welfare facilities
Yamagata, Japan
Public office
Tokyo, Japan
Station
Tokyo, Japan