A handrail with LED lighting for safe use in public areas.
Two types of rails: φ38 mm and φ42.7 mm in diameter
Available rail surface finishes are common hairline and selected satin (Satin finish is optional).
Can be applied to walls, glass walls and poles.
The LED lights can be embedded only where you want illumination.
* LED lights cannot be mounted on some areas including corners and bended parts.
Products specifications of LED Multi Unit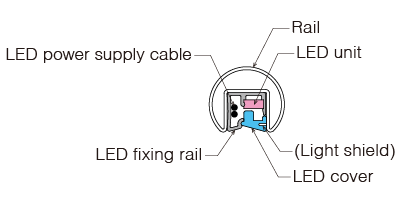 LED unit
Type

Horizontal LEDs

Vertical LEDs
Colour

Daylight (7100K)

Light Bulb (2700K)
* Please understand that the LED colours may differ between product lots due to their nature.
Details
| | |
| --- | --- |
| LED unit input voltage | 12 VDC |
| LED unit material | Soft acrylic resin |
| LED unit length | 1,000 mm, 1,500 mm, 2,000 mm |
| LED chip quantity | 96 lights/m |
| LED operating environment | -25℃ to 60℃ |
| Power consumption | 3.9w/m |
| Operating environment | Indoor and outdoor |
* Cannot be used in locations with continuous water splash or in water [Water-proof performance: IPX5 equivalent (internal testing)]
* The specifications above are common between horizontal and vertical LEDs.
LED cover

Clear type

Diffusion type
Light distribution characteristics
Various combinations are available for every situation: vertical and horizontal LED units, clear and diffusion LED covers, and the presence and absence of light shields.
To illuminate the entire floor brightly

Horizontal LED unit + Clear LED cover

For mild illumination (softly lit). To improve uneven illumination due to multiple LED bulbs.

Horizontal LED unit + Diffusion LED cover

When you want to illuminate pathways, rather than walls

Vertical LED unit + Clear LED cover + Light shield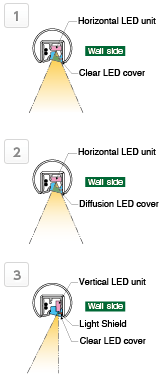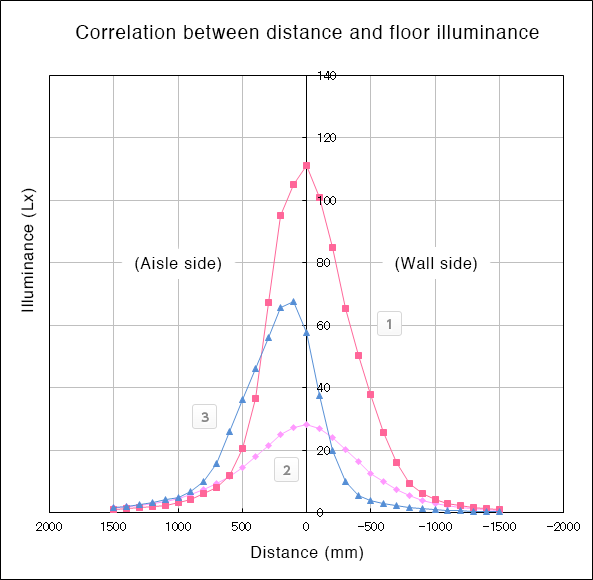 Handrail specifications
Model No.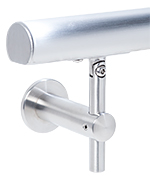 The following variations are available for the rail:
With LED lighting
(Slot type)
Without LED lighting
(Slot type) *1
Without LED lighting
(Round pipe) *2
φ38
Hairline
S-38mH-S
S-38mH-N
S-38H
φ42.7
Hairline
S-43mH-S
S-43mH-N
S-43H
*1 Select this instead of round pipes if LED lighting can be equipped in the future or the rail cross-section should be the same as the LED lighting model.
*2 The round pipes are used in positions that do not require LED lighting.
*3 The bracket pitch is 1,500 mm or less for φ38 and 2,000mm or less for φ42.7.
Specifications

Top Rail: Stainless Steel SUS304
Bracket: SCS13
Wiring system (example)

* The recommended length from the power supply to the start of the LED lighting is up to 5 m (2.0 sq cable used for secondary side wiring).
Installation case example
The copyright of the image data belongs to NAKA CORPORATION.
Park
Ishikawa, Japan
Commercial facility
Tokyo, Japan
Fukushima, Japan
Office building
Tokyo, Japan
Apartment houses
Tokyo, Japan