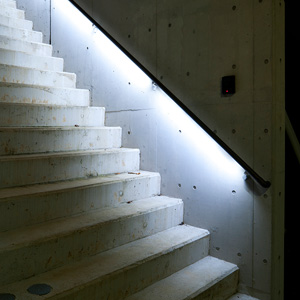 A New Genre of Lighting for Buildings -
High-Quality "Light" Enveloped in Gentleness and Peace of Mind.
Effects
The subtle production of space by LED Illumination. The introduction of Vinilane and Grahan in the handrail for the lobby/staircase has made it possible to produce illumination at foot level, absent until now, by use of the same solution applied to the handrail.
A Subtle Determination that Seeks to Charm
Light-based guidance and direction. An achievement made possible by high-grade LED technology. A new product from NAKA CORPORATION upholding peace of mind.
ECO
Because it is an LED, it conserves energy, has a long service life, and saves space. Achievement of excellent cost performance. Unlike fluorescent lights, it contains no mercury gas, and thus will still be clean at the time of disposal.
Slim-Jointed Handrail
The handrail incorporating LED illumination is a slim-joined handrail with a high level of safety developed by NAKA CORPORATION. The safety is further enhanced with a structurally, feasible groove (joint) under the railing, kept at a width of 5mm or less.
Installation case example
The copyright of the image data belongs to NAKA CORPORATION.
Wedding hall
Hiroshima, Japan
Hospitals,Nursing homes and Welfare facilities
Saitama, Japan
Fukushima, Japan
Tokyo, Japan
Kanagawa, Japan
Hokkaido, Japan
Hyogo, Japan
Airport
Yamaguchi, Japan
Commercial facility
Tokyo, Japan
Tokyo, Japan
Housing
Kanagawa, Japan
School
Fukuoka, Japan
LED Colour

Daylight (7100K)

Light Bulb (2700K)
* Please understand that the LED colours may differ between product lots due to their nature.
Details
| | |
| --- | --- |
| LED unit input voltage | 12 VDC |
| LED unit material | Soft acrylic resin |
| LED unit length | 1,000 mm |
| LED chip quantity | 96 lights/m |
| LED operating environment | -25℃ ~ 60℃ |
| Power consumption | 3.9 W/m |
| Operating environment | Indoor and outdoor *1 |
| Directly under illumination(H=800 mm) | About 70lx *2 |
| Minimum R dimension | 80 mm (When LED unit built) |
*1 Cannot be used in locations with continuous water splash or in water [Water-proof performance: IPX5 equivalent (internal testing)]
*2 Change by the colour of light source, wall and ssurounding.
Wiring
Wiring system (example)

*1 The recommended length from the power supply to the start of the LED lighting is up to 5 m (2.0 sq cable used for secondary side wiring).
*2 Basic length of the LED unit is 1007 mm (3.9w).
Internal wiring (Example)

* The length of the LED unit is adjustable.