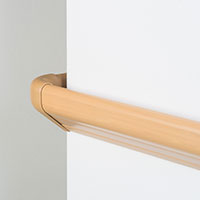 The continuous handrail has distinctive curves for easy gripping. The configuration has no brackets, and the whole handrail is contact with the wall. Sharp edge corner materials are also available to achieve continuity of the handrail.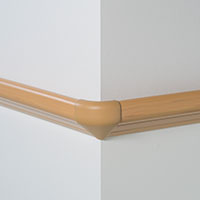 Walkleline uses a reduced number of parts to simplify the installation process compared with conventional items. Since no reinforcing bases or batten plates are required when it is attached to studs (455 mm pitch), WALKLE LINE can be installed after the renovation of a single-family residence.
Attachment procedure


Fasten the coping to the wall.


Attache the end cap. (Use both screws and adhesive.)


Engage the rail to finish.
Colour

No.73 Birch

No.90 Oak
Details
Model No.

WL-01

Specifications

Top cover: Hard Resin Dual Forming (Contains Antimicrobial Agent)
End Cap, Corner Cap, and Rail Cover: ABS Plastic

Length

3,000mm