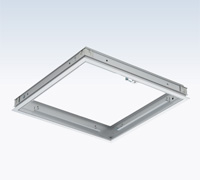 It provides four combinations of top and bottom of the outer and inner frames: simple frame, trim, simple-trim frame and simple frame-trim configurations. Custom-made sizes can be fabricated in addition to standard dimensions. It can also be mounted on a wooden frame.
It can be attached on eaves soffit if the trim frame type with Key-lock is combined.
Products of up to 1200×1500 mm (three doors) can be fabricated.
Acclaimed by Public Buildings Association, Ltd. (Only Channel Catch-specified items)
* The picture shows the simple-trim frame type.

Standard Lock

Key Lock
Colour

Silver
Available in custom-made sizes
Custom-made items up to the maximum sizes shown below can be fabricated only for the DX type.

Details
□300
300×
600
□450
□600
□900
Model No.
Standard
HHDX-303
HHDX-3060
HHDX-454
HHDX-606
HHDX-909
Key Lock
HHDX-K303
HHDX-K3060
HHDX-K454
HHDX-K606
HHDX-K909
Dimensions
Standard Size
303×
303
303×
606
454×
454
606×
606
909×
909
Ceiling Opening Dimensions
(Outside Frame; Narrow Type)
303×
303
303×
606
454×
454
606×
606
909×
909
Ceiling Opening Dimensions
(Outside Frame; Wide Type)
326×
326
326×
629
477×
477
629×
629
932×
932
Ceiling Base Opening Dimensions
326×
326
326×
629
477×
477
629×
629
932×
932
Inner Ceiling Tile Dimensions A
290×
290
290×
593
441×
441
593×
593
896×
896
Inner Ceiling Tile Dimensions B
284×
284
284×
587
435×
435
587×
587
890×
890
Specifications
Inside Frame, Outside Frame:
Extruded Aluminium with Anodised Finish (A6063S-T5)