The floor hatch is made of stainless steel, and is available outdoors. Deodorizing and waterproof type of bolting up fixed.
Waterproof deodorant effect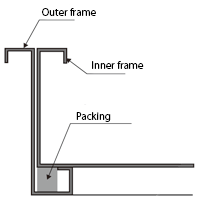 For tightening up of the packing and fixing bolts and enhance the waterproof performance and deodorizing performance.
Parts
BBS dedicated handle

Jig to be used to lift the lid. One BBS has 2 jigs.
Opening the inner lid


Turn the fixing bolts with the supplied hex wrench.


Set supplied handle with the fixing bolt two places.


Use dedicated handle to lift the lid.
Details
Model No.
Dimensions
Handle type
Maximum load *
Waterproof performance *
NHBBS
450
Standard
450×
450
Lift type
41,000N
(4,180kgf)
Water depth of
about 250 mm clear
NHBBS
600
600×
600
27,000N
(2,750kgf)
Water depth of
about 235 mm clear
* Is an in-house test values, it is not a guaranteed value.
Specifications
Main body: Stainless steel SUS304
Handlle: Lift type (use jig)
Dedicated handle: Steel