J Type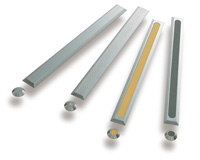 You can use it at public facilities, station building, office building etc. But also at outdoor for the good durability.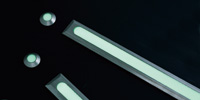 New lineup "Luminous type". It is safe at the time of darkness or power outages.

R Type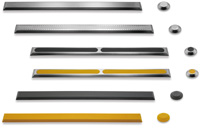 Standard type that was molded by winding a stainless steel plate to the polyamide resin. Excellent visibility all resin type also it is lineup. Weather resistance, versus drug resistance, oil resistance, exellent heat resistance, and can be used with confidence even outdoors.
T Type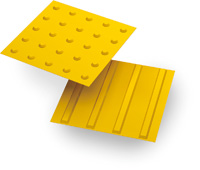 Non-slip properties, cushioning properties, visibility, and is an excellent braille tile type in workability. Abrasion resistance, excellent impact resistance, can also withstand harsh use. Easy installation with double-sided tape.
* The floor material, including dust, please pasted with double-sided tape from applying the specified adhesive.
Specifications
J Type
J Type
Model No.
Colour
Material
Basic
Stainless steel type
(Flat)
Dot type
NSH22
―
Stainless steel
Bar type
NSH290
Basic
Stainless Steel Type
(Dot pattern)
Dot type
NSN22
―
Stainless Steel
Bar type
NSN290
Non-slip type
Dot type
NSN22-G
Grey
Stainless steel + resin
Bar type
NSN290-G
Dot type
NSN22-Y
Yellow
Bar type
NSN290-Y
Non-slip
luminous type
Dot type
NCT-22
―
Stainless steel + luminous pigment-containing resin
Bar type
NCT-290
R Type
Model No.
Colour
Material
Basic
Stailess steel type
(Flat)
For normal finishing floor
Dot type
NRSH22
―
Stainless steel + hard resin
Bar type
NRSH290
For carpet
Dot type
NRSH22TC
Bar type
NRSH290TC
Basic
Stainless steel type
(Dot pattern)
For normal finishing floor
Dot type
NRSN22
―
Bar type
NRSN290
For carpet
Dot type
NRSN22TC
Bar type
NRSN290TC
Non-slip type
For normal finishing floor
Dot type
NRSN22-G
Grey
Bar type
NRSN290-G
Dot type
NRSN22-Y
Yellow
Bar type
NRSN290-Y
For carpet
Dot type
NRSN22TC-G
Grey
Bar type
NRSN290TC-G
Dot type
NRSN22TC-Y
Yellow
Bar type
NRSN290TC-Y
Visibility type
For normal finishing floor
Dot type
NNN22-G
Grey
Hard resin
Bar type
NNN290-G
Dot type
NNN22-Y
Yellow
Bar type
NNN290-Y
For carpet
Dot type
NNN22TC-G
Grey
Bar type
NNN290TC-G
Dot type
NNN22TC-Y
Yellow
Bar type
NNN290TC-Y
T Type
Model No.
Colour
Material
Dot type
NPD-Y
Yellow
Polyurethane resin
Bar type
NPS-Y
Dot type
NPD-G
Grey
Bar type
NPS-G