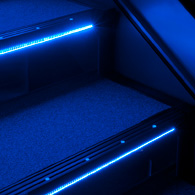 Hi-Step LUNA is Stair-Nosing with build-in LEDs. It provides for safe navigation up and down stairways in the dark with an unobtrusive indication of the outline of the stairway faulting.
Since the illumination comes from LEDs, this is a product that not only conserves electricity, but also enjoys a long maintenance-free service life. It provides a higher level of interior dècor and safety by its staging of light in settings of all types, including cinema complexes, theatres, commercial shops and the like.
Long maitenance-free service life based on use of LEDs
With special sidelight format each step is provided with an LED light source
Energy-saving design allows lights to stay on for a long period
A line of light in front of you and a point of light at the side
Offers combination of visibility and freedom from glare
FROST TYPE
Entire light fiber shines dimly and irradiated with LED from both ends.
NLC-42FT (For Tile Carpet)
NLJ-42FT (For Carpet)
* LED socket (LEDφ5×2nons). 0.02/no×12V=0.24W.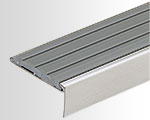 DOT TYPE
Dot line engraved on the light fiber is light to linear. If the stair is narrow (W=1,100mm or less), irradiated with LED light from one side, if wide (W=1,100mm and above) from both sides.
NLC-42DT (For Tile Carpet)
NLJ-42DT (For Carpet)
* LED socket (LEDφ5×2nons). 0.02/no×12V=0.24W.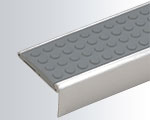 Installation case example
The copyright of the image data belongs to NAKA CORPORATION.
Amusement facilities
Chiba, Japan
Tokyo, Japan
Planetarium
Hyogo, Japan
Cinema
Hokkaido, Japan
Commercial facilities
Tokyo, Japan
Office building
Saitama, Japan
Tokushima, Japan
Fukuoka, Japan
Details
Vinyl tire

Wireling line
Wireling line (S): For CARPET TILE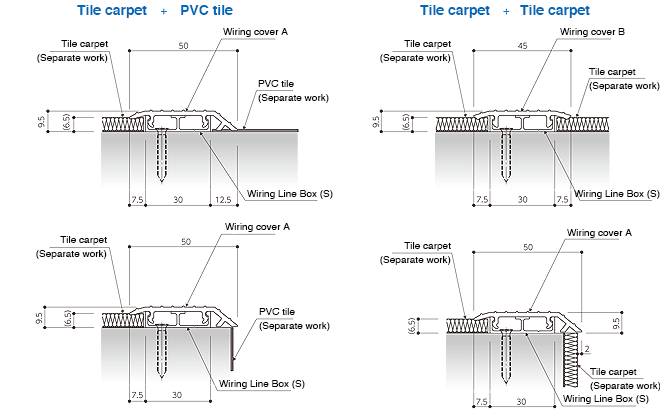 Wireling line: For CARPET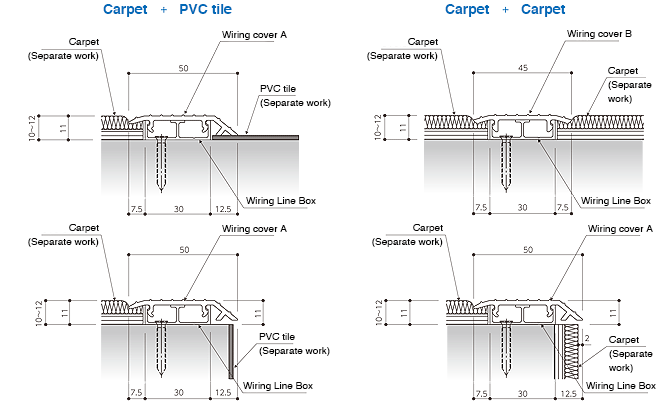 Colour

LP-04
Green

LP-05
Blue

LP-02
Orange
※特注色にも対応可能です。別途ご相談ください。
Specifications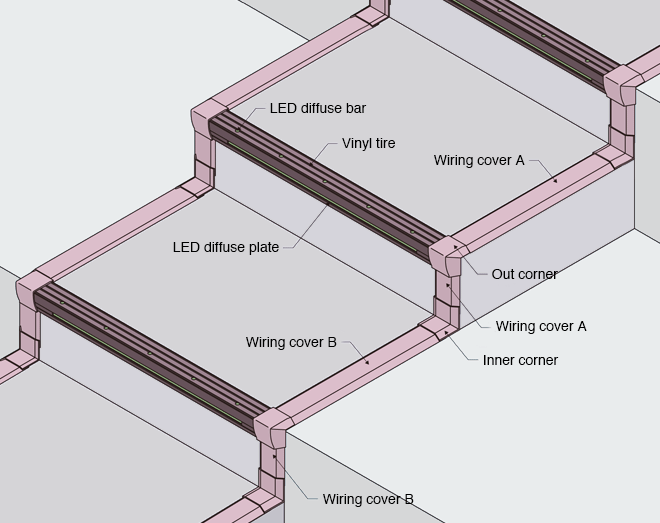 | | |
| --- | --- |
| Metal Base | Excluded Aluminium |
| Vinyle Tire | Excluded PVC with Aluminium Sheet |
| LED Socket, Mirror Socket | ASA Resin |
| LED diffuse plate | Acrylic Resin |
| LED diffuse bar | Soft Transparent Resin |
| Wireling Line Box | Aluminium (Extruded Aluminium Anodised finish). |
| Wireling Cover A | Soft PVC Resin |
| Wireling Cover B | Semihard PVC Resin |
| Out Corner | ASA Resin |
| Inner Corner | Polyethylene Resin |