Combi Universal-Seat US13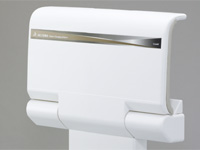 It is usable in a multi-purpose.
Can be opened and closed with a light force 30N (3kgf).
Soft-down mechanism to opens slowly.
Soft cushion and a wide seat.
Wheelchair user can use it comfortably.
Left and right handrail can be open and close both.
Retractor belt with a lock.
Described in four languages (Japanese, Chinese, English and Korean).
Combi Wall cushion R1 (opution)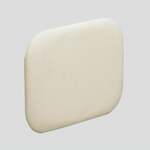 It is a wall cushion to protect the head.
Only for vertical universal seat.
Specifications
Combi Universal-Seat US13

Model No. : N-US-13
Colour: Clear white
Outside dimensions: W738×D240×H1538 (mm) [in use: W738×D1285×H583 (mm)]
Mass: 35.0 (kg)
Material: [Main unit] Steel (rust-prevention treatment), ABS resin
[Surface]Plyurethane leather

Combi Wall cushion R1

Model No. : N-UC-01R
Colour: Beige
Dimensions: W500×D30×H360 (mm)
Mass: 1.4 (kg)
Material: [Core] Plywood [Surface] Plyurethane leather