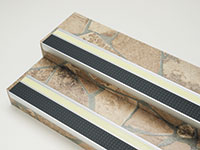 A high-brightness luminous line is integrated in the anti-slip stair nosing. This ensures a certain level of luminousness required for evacuation in the case of a blackout due to a disaster for 60 minutes.
* Made to order (delivery period: about two months)
For direct attachment
For plastic tiles
Flat End

Flat end caps at both end help to clean easily.
Visibility Performance
| Time | Luminance (mcd/m²) |
| --- | --- |
| After 20 min. | 200 |
| After 60 min. | 60 |
* Irradiate with 200lx (lux)of light for 20 minutes
Colour (Non stocked colours)

No.02
Grey

No.03
Dark Grey

No.04
Soft Black

No.13
Beige

No.14
Dark Beige

No.23
Chocolate

No.45
Wine Red

No.51
Olive Green

No.12
Light Beige

No.22
Light Brown

No.32
Mustard Yellow

No.62
Dark Blue
Note) Luminace colour is one colour (light green) only for any colour of vinyl tile.
Specifications
| | ATRIPE | DOT | LATTICE | FLAT |
| --- | --- | --- | --- | --- |
| Model No. | A-65HCKS | A-65HCKD | A-65HCKL | A-65HCKF |
Metal Base: Extruded Aluminium A6063S-T5
Vinyl Tiles: Extruded PVC contain Non Elastic Material
Luminance band: Luminance Hard PVC